Gannon has been reminding me lately (on his own) that one day he will have to do things like the dishes and the laundry. I am impressed because we have never really talked about chores with him. He has come to the realization on his own that as a family, we help each other. I have to give Bryan most of the credit for this because of the way he helps me with everything. I love that they, well at least Gannon (for now), notice how much emphasis we put on team work. Neither of us ever really have to tackle anything alone, and they are watching.
Like I said before, Bryan and I have never really discussed chores. Not with the kids or with each other. When Gannon mentioned it again last night, I started to think...He's five, now. Maybe chores aren't such a bad idea! And you all know how much Austyn hates to pick up...Well, maybe this could be the answer for her, too! Now, don't get me wrong, they will not be asked to fold laundry, do dishes, sweep, and take out the trash. Yet! But I think I am ready to start baby steps with them, as well as giving them an allowance.
Now, for the fun part! I have been Searching Pinterest for "Chore Chart Tutorials" and while I couldn't find a tutorial, I found an
Etsy
shop,
Abbie's House,
that sells the cutest magnetic chore charts. My favorite part (which is absolutely necessary for my two kiddos) is that the chores are not written--they are photos. While Gannon is learning to read, Austyn isn't even close. I wanted a chart with illustrations of chores rather than words. How great are these?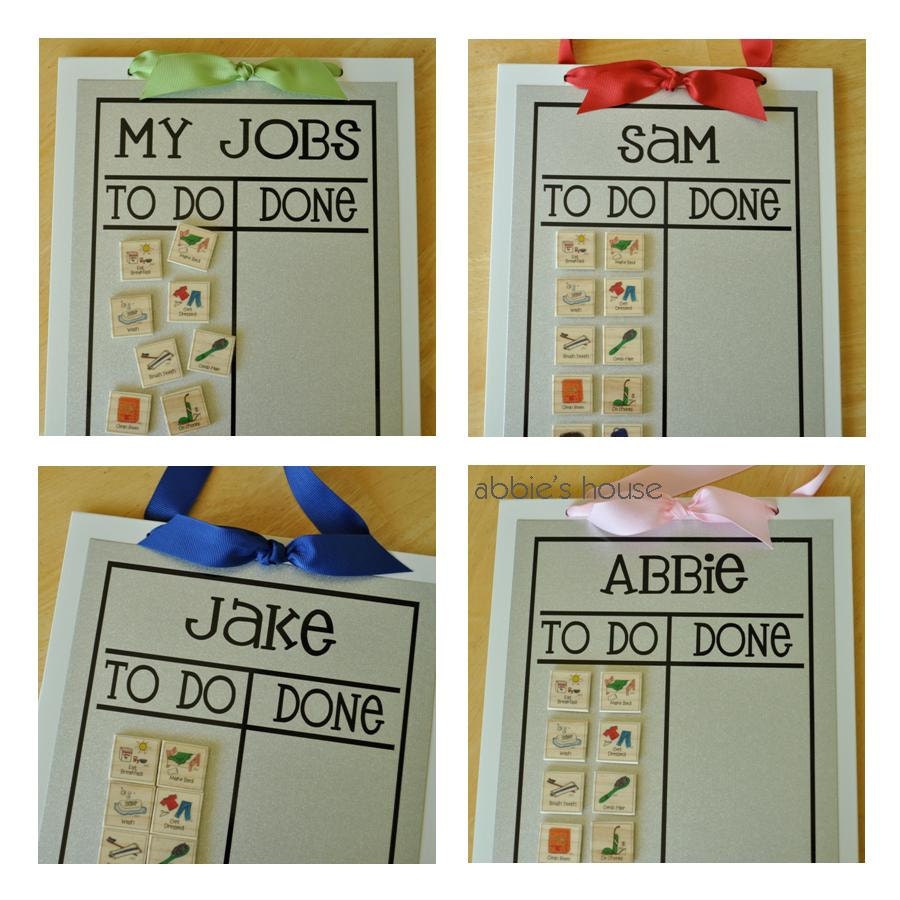 Now, in addition to chores, we have to start allowances. It won't be much, obviously, they are three and five. But it will hopefully be something to keep them motivated throughout the week. I also want to start teaching them about the value of money. I have found several cute ideas on
Pinterest
, of course, that I can't wait to implement into our lives!
The first is "Save-Spend-Share" mason jars. Pinterest led me to
this
blog, which is full of cute ideas and printables.
Every week when they get their allowances, we will divide them into three jars. One is for saving, one for spending, and one for giving to those who are less fortunate than us. How we will divide them has not yet been decided, but that part is not important right now. We let them drop money in the donation buckets at Christmas time, and when we explained what those buckets were for and what they had done to help others, they were so proud.
I also saw this:
I think it is necessary for kids (heck, even me) for everything to be tangible when dealing with money. This project is so simple, and it will allow them to choose what they are saving for, and show them their progress along the way.
I know most of this will be a long-shot with Austyn, but I really think Gannon is going to enjoy it, as well as benefit from it. Austyn just loves to do anything her big brother does, so she just may get more out of it all than we expect. Plus, we have to start somewhere.
Any other ideas are completely welcome, so if you have tips and tricks that have proven successful, please let me know!
Now, all I have to do is convince Bryan to buy me those adorable chore charts!!